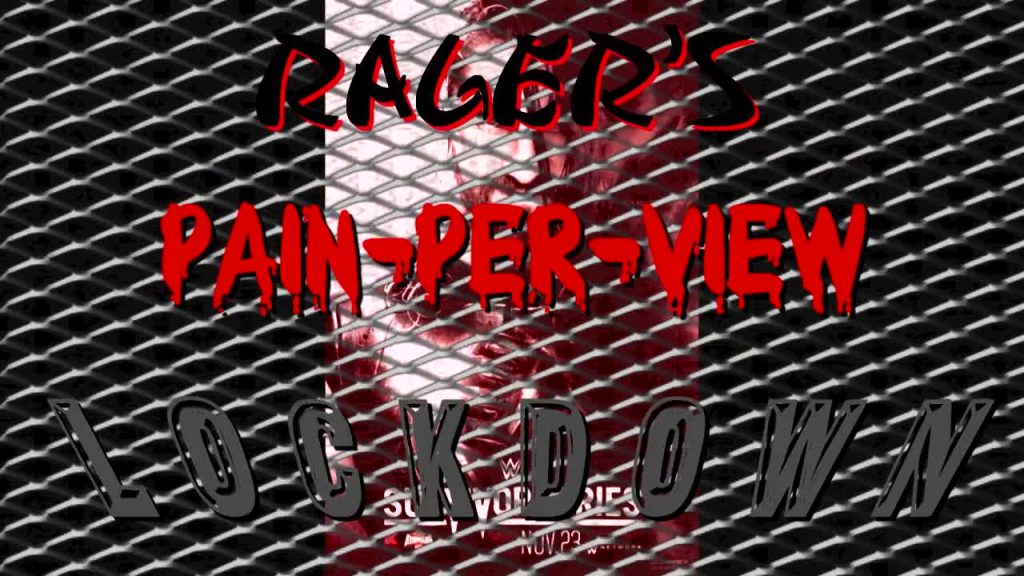 It may not be in video form but Rage Rider is still here to give you his thoughts on who will leave victorious Sunday night at Survivor Series.
Welcome, fight fans. Due to unforeseen circumstances beyond my control, namely a stupid holiday involving unwanted guests, I cannot film my Lockdown this month. But I didn't want to leave my Ragerholics empty-handed so I decided to do the next best thing and write out my predictions. Fear not, the video Lockdowns will return next month. But for right now let's get to Survivor Series.
1. Gold and Stardust vs. The Usos vs. Los Matadores vs. The Miz and Damien Mizdow. Fatal 4-Way tag team match for the Tag Titles
While the Brothers Rhodes and Brothers Usos can put on decent matches I doubt that's what the audience paid to see. As cheesy as it is, Mizdow is huge right now and I wouldn't be surprised if he and Miz pulled a surprise victory. Mizdow deserves a second chance after his botched MITB cash-in. It's a long shot but I'm giving them the Lockdown.
WINNER: The Miz and Mizdow
2. Alicia Fox, Emma, Naomi and Natalya vs. Paige, Cameron, Layla and Summer Rae 4-on-4 Divas Survivor Series match
Oh joy. A Total Divas Survivor Series match. Not even Paige can save this turkey. I think we know what is gonna be our piss break for this show.
WINNER: Does it matter?
3. Dean Ambrose vs. Bray Wyatt .
This match has been a long time coming, even before the beautiful twist ending at Hell In A Cell. Ambrose and Wyatt are former leaders of fresh and new factions in this recent era who have battled on numerous occasions and as history has proven, the leaders of said factions go on to great things and epic feuds, much like Triple H and The Rock in the Attitude Era. Ambrose and Wyatt have proven that they can toss great promos back and forth so I'm excited for what's in store. As for who wins? That is a tough call. Even if it's only to prolong the feud I'm giving this one to Bray Wyatt. Either way this is going to be one brutal mindfuck.
WINNER: Bray Wyatt
4. AJ Lee vs. Nikki Bella.
This match is going to prove two things. 1) That AJ is the only one who can carry this match, and 2) We still don't feel sorry for Brie. I hope AJ retains.
WINNER: AJ Lee
5. Team Cena (John Cena, Dolph Ziggler, Big Show, Erick Rowan and Ryback) vs. Team Authority (Seth Rollins, Kane, Mark Henry, Rusev and Luke Harper) 5-on-5 Traditional Survivor Series match.
And now we come to the so-called main event. If Cena's ragtag squad win then the big bad evil corporation folds………..until another evil faction rises up to take its place. But OH NO! If the mean old Authority wins then Cena's entire team will be FIRED……….for about a week and then they are rehired possibly by Mr. McMahon who is nice all of a sudden. I feel like either way we've been here before and it's gotten very tiresome. So my advice is just enjoy the fucking match for what it is, a classic Survivor Series elimination, and don't sweat the stipulations. However if I have to choose then Team Authority probably wins. I bet you're glad you're not paying for this PPV. Shit I hope I'm wrong on this one.
WINNER: Team Authority
It's still not too late to make a free account and reap the benefits of a free month of WWE Network and Survivor Series tonight. At least you didn't have to sign a commitment. Until the next time I'm Rage Rider and REMEMBER! Violence is always the answer!